Sympathy and Funeral

Pavilion's years of experience and expertise - along with compassionate staff who understand the importance of making your tribute exactly right - make us ideally suited to taking care of your floral requirements. We will guide you sensitively, and our approach is focussed on creating a commemorative arrangement to celebrate the life and personality of your loved one. These are just a representative sample - if you need something uniquely designed just contact us and we will be happy to help. Although we always carry a wonderful selection of flowers, we advise that you give at least four full days notice for any specific or special requests.



Please note, Delivery Charges apply (from £6.99)

. Although pictured products are for the Sheffield area only, we do also offer a superb

National and International D

elivery Service

through only trusted Interflora Members. Please call us for further information.


SF5. Contemporary Woodland Casket Top




3.5 - 4ft:

£210.00

,

4.5 - 5ft

(pictured)

:

£245.00

,
​

5.5 - 6ft:

£285.00
​A stylised tribute with a natural and loose feel, this beautiful arrangement comprises choicest Calla Lilies, large headed Avalanche Roses, green Midori Anthurium, Molucella, Corylus (twisted Hazel) and lush leaves and foliages to compliment.
Phone to Order:

(UK) 0114 2668935

All major Debit and Credit Cards accepted




Pavilion Flowers
Flower Shop Sheffield
Florist Sheffield
Flowers Delivered Sheffield​
Interflora Sheffield
472 Glossop Road
Broomhill
Sheffield
South Yorkshire
S10 2QA
0114 266 8935
Google+
SF8. Calla Lily and Dendrobium Orchid
Casket Top​


3.5 - 4ft:

£220.00

,

4 - 4.5ft

(pictured)

:

£250.00

,
​

4.5 - 5ft:

£280.00


Stunning and elegant, a stylish arrangement featuring the best Calla Lilies, Dendrobium Orchids, Hydrangeas and choicest grasses and foliages to frame the design.
SF6. Rose, Calla, Anthurium and Eryngium Thistle Casket Top​




3.5 - 4ft:

£150.00

,

4- 4.5ft

(pictured)

:

£185.00

,
​

5- 5.5ft:

£265.00


A bright and vibrant piece featuring choice yellow Illios Roses, Calla Lilies, green Midori Anthurium and blue Erygium Thistles, complimented with lush foliages.
SF7. White Oriental Lily Casket Top​




3- 3.5ft:

£155.00

,

4- 4.5ft

:

£180.00

,
​

5- 5.5ft

(pictured)

:

£205.00


Classical white Oriental Lilies along with deep green Palm and Aspidistra leaves create an exquisite and timeless tribute.

Also available in pink.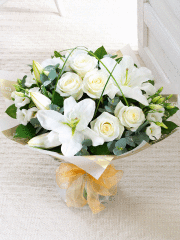 SF1. White Sympathy Hand-Tied




Standard:

£39.99

,

Large

(pictured)

:

£54.99

,
​

Extra large:

£69.99
​An elegant and contemporary hand-tied bouquet, featuring beautiful white Avalanche Roses, White Oriental Lilies and delicate Lisianthus.
SF9. Contemporary Heart Tribute


(Also Available in White, Yellow or Pink/Purple​)




40cm x 40cm:

£120.00

,
​

50 x 50

cm

(pictured)

:

£165.00

,


60 x 60cm

:

£200.00


A wonderful and innovative design for a truly unique tribute. Featuring elegant Calla Lilies, Cellosia, Roses, Gerbera, Carnations, Ivies, Mosses and choice foliages.
SF2. Luxury White Oriental Lily Vase




Standard:

£74.99

,

Large

(pictured)

:

£89.99

,
A stylish and classical arrangement comprising superior grade White Oriental Lilies in a stunning Glass 'Crackle' Vase. The ultimate way to show a loved one you are thinking of them.
SF4. Classical Rose Casket Top


(Also available in White, Orange, Pink, Yellow or a combination)​




3.5 - 4ft (50 Roses):

£250.00

,
​

4.5 - 5ft (60 Roses)

:

£275.00

,
​

5.5 - 6ft: (75 Roses)

£295.00
​Simple in essence but deep in meaning, the rose is an enduring symbol of love and friendship. This stunning classical spray makes a perfect tribute.